LITTLE GOLDEN BOOKS
Animal Orchestra (1958), written by Ilo Orleans, illustrated by Tibor Gergely
: Out-freaking-standing. I've heard tell of this book for a long time, but never come across it before. Read it today and think it entirely deserves its sterling reputation. Reminds me a bit of our beloved
Hand, Hand, Fingers, Thumb
in its musicality, plus it has every animal a toddler should meet. A great book for anyone who wants to start exposing their kiddo to the elements of music, or for anyone who believes lyricism is an important part of children's literature, or for any kid who loves animals! An excerpt:
The gray Seals barked.
They lifted their fins,
And tweedled upon
Their violins
The spotted Giraffes--
the oddest fellows
Zoomed and zoomed
On their yellow cellos.
The Lion bugled;
The Rhino fluted;
The Leopard harped;
The Tiger tooted.
I'll definitely be looking for
more from Ilo Orleans
in my future book hunts.
Good Night, Little Bear (1961), written by Patsy Scarry, illustrated by Richard Scarry
: This is included in only slightly altered format in
Richard Scarry's Best Storybook Ever
, but I like stories about bears that are toddlers (or toddlers that are bears?), and it reminds of a much less surreal
Little Fur Family.
EDJUMACATIONAL BOARD BOOKS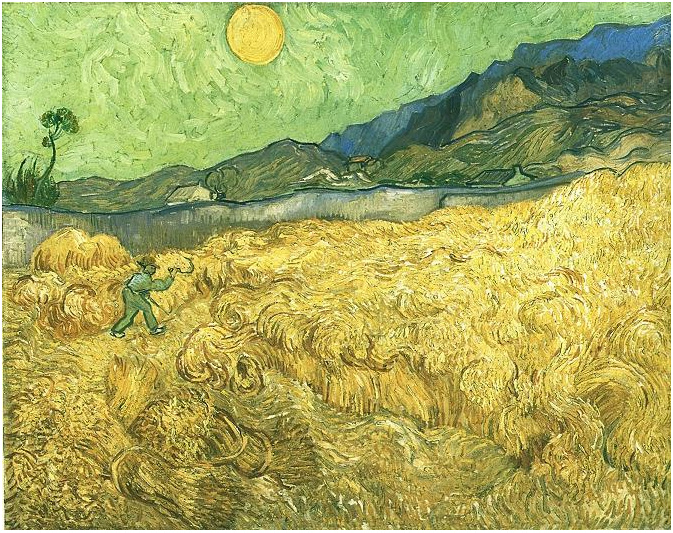 Wheat Fields with Reaper at Sunrise (1889) by Vincent Van Gogh
Baby Einstein Let's Explore Colors (2004)
: I really liked the
Baby Einstein Windows to Color
book I found, so I thought I'd grab this as well. I know babies are supposed to be better suited to 1960s Minimalism than 1880s Impressionism, but I believe kiddos should be exposed to beautiful things and when better to do than when exploring color and art? This includes six Van Gogh paintings to illustrate color. Yellow is
Wheat Fields with Reaper at Sunrise
. (For the record, I used to be violently opposed to the brands Baby Einstein and Leap Frog, but as it happens, they may not be entirely evil. Another preconceived notion dashed!)
Mouse Count
(1991)
by Ellen Stoll Walsh:
Note to self: Maybe
read
the books before buying? Sure, trust the authors you recognize, but
verify
. This is a book about a cold-blooded homicidal maniac of a snake who kidnaps and imprisons 10 helpless
toddlers
mice with plans to slaughter and eat them. The mice make a clean getaway, "uncounting themselves," but holy guacamole is this disturbing. I bet the kid will love it, but mama's heebies have jeebies right now. Meanwhile, if you don't known Walsh's
Mouse Paint
, it's a great introduction to colors and color blending with slightly less (just slightly) attempted mouse murder. She also has
Mouse Shapes
which I haven't yet seen.
Toes, Ears & Nose: A Lift-the-Flap Book (2003), written by Marion Dane Bauer, illustrated by Karen Katz
: Oh Karen Katz, I wish I could quit you. We're solidifying the little's knowledge of body parts, so I thought we'd give this a shot. Two of the flaps are missing (earmuffs covering ears and a lollipop hiding a tongue), but so it goes with the used books.
PHOTO-ILLUSTRATED NON-FICTION BOOKS
My Big Animal Book (2003) by Roger Priddy
: Once again Book Providence provides! I was just coveting this book for my animal-loving toddler after seeing it in a
Signing Time!
music video, and here it is. The kiddo had a question about the identity of the turkey on the farm animals page, but other than that he could totally be parachuted into my 1C1R's sheep farm in the Upper Peninsula of Michigan and
do just fine for himself
.
DK My First Hanukkah Board Board (2005)
: Judiasm, we haz it! Also available:
DK My First Passover Board Book
and
DK My First Shabbat Board Book
. (And to be clear, books like these are as useful and necessary for me as for the kid.)
John Deere All Around the Farm (2007) by Heather Alexander
: This is kind of like buying
Coca-Cola's Big Book of Beverage Deliciousness
for your kid, but I like farms and agriculture, and I doubt my kid will be making any buying decisions about combine harvesters anytime soon, so what the heck. It includes a pull-out poster with photos of farm stuff on one side and a giant John Deere tractor on the other.
PICTURE BOOKS
Manners Can Be Fun (1936) by Munro Leaf
: Planning on pairing this with
Richard Scarry's The Polite Elephant
. Any suggestions for other "etiquette" or "behavior" books suitable for children? BTW,
according to Wikipedia
, there are about 20 other books from Leaf that are either behavior guides or part of the "Can Be Fun" series.
The Bunyans (1996), written by Audrey Wood and illustrated by David Shannon
: Paul Bunyan's kids play a part in the creation of American natural landmarks like Bryce Canyon, Big Sur and Old Faithful. Cute, could be a nice addition to a study of American folklore. (Jackson should "Yak!" every time there was an image of Babe the Blue Ox somewhere on a page. Hee.)
Butterfly, Butterfly: A Book of Colors (2007) by Petr Horáček
: Gorgeous! Very Eric Carle-y but the full-page illustrations are much denser. The climactic pop-up butterfly is missing a wing, but the kid didn't seem to mind and/or wanted to do his part to rip of the other wing. J was instantly enchanted with this book (he got very excited when he saw it and tried to say and sign butterfly).
Lily's Purple Plastic Purse (1996) by Kevin Henkes
: The main character falls somewhere between Frances (of Bread and Jam fame) and that Olivia girl. Not the be-all, end-all of books, but cute.
BOOKS FOR GROWNUPS
A First Dictionary of Cultural Literacy by E.D. Hirsch, Jr.
(1989): Useful reference work. Like the Brain Quest stuff, not so much a curriculum plan as much as a useful assessment tool. "Greetings, fifth grader! What is a Shanghai?" [Blank stare] "Hey, fifth grader, do you want to play an awesome game called Geography?!" For the record, I've been roundly unimpressed with the
Core Knowledge "What Your Xth Grader Needs to Know"
series. If nothing else, they are the opposite of the
living books
that
Charlotte Mason
espouses and that I believe in so passionately. The illustrations and subject matter in the series strike me as aggressively pedestrian. That said, I dig this "Dictionary" and I plan to keep it on hand as a guide to necessary topics of study for kids up to sixth grade.