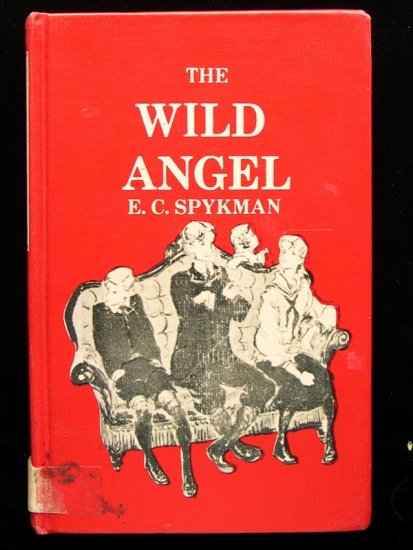 Hubert, Theodore, Edie and Jane,
circa the second book
If your kid liked the Melendy quartet or the All-of-a-Kind Family books...
Try this quartet of books about childhood in small-town Massachusetts in the 1910s:
A Lemon and a Star (1955), The Wild Angel (1957), Terrible Horrible Edie (1960), and Edie on the Warpath (1966), by E.C. Spykman
. Spykman is an outstanding writer, and the four children of her story--Theodore, Jane, Hubert and Edie Cares--seem to live in the kind of barely supervised idyll that invariably leads to the most vivid and exciting experiences of childhood. Spykman was born Elizabeth Choate, and her family was Boston Brahmin from way back. This extremely comfortable lifestyle reveals itself clearly through the lives of the children of her book, even though they themselves don't seem to recognize their own privilege--they have a rambling farm to explore (complete with their own ponies!), and
their
farm is surrounded on all sides by other rambling farms owned by
other
family members, and their every need is met by a small team of servants: the housekeeper, the cook and the nurse. The father is distant but Kind and Important, the mother is dead, and the children have all they could ever want from the world in terms of pets, books, food and "free-range adventures." The series devolves a tiny bit as the last two books focus on Edie, who is determined to become and stay a spoiled brat at any cost, but Spykman gets points for honestly and unapologetically portraying the authentic and passionate self-involvement of 10-year-old girls. The youthful adventures in these books are good ones, and the language of the author, and the psychology of the characters are excellent.
Note: These books are out of print and possibly expensive, but they were quite popular in their day, so they should be widely available in larger libraries.
* * *
If your kid liked My Family and Other Animals by Gerald Durrell...
Try
Dune Boy: The Early Years of a Naturalist by Edwin Way Teale (1943)
. Although this Indiana-set memoir lacks the exoticism of Durrell's pre-war Corfu, the two future naturalists had many of the same childhood experiences. Both went on long unsupervised walkabouts through the countryside, collected nature specimens from hither and yon without running into restrictions or suspicions from adults, and both have clear memories of how they began to learn to identify and understand the natural world around them. Teale spent summers and holidays with his grandparents in the
Dune Country of Indiana
, and his adventures here are split between the strange wildlife of the dunes, the woods and marsh immediately adjacent to his grandparents' farm and the nooks and crannies of the farm himself. He also describes a long-lost pre-petroleum world where root beer was actually made from roots, wintergreen was a plant and not just a flavoring, farmers raced to meet the late train with their strawberry crop for the big cities, and where township grandees purchased "140 volumes of the world's classic books" bound in leather to be shared by any local resident an interest in learning. Full of warm memories as well as big adventures like building a flying machine and trapping a seven-foot blacksnake, this is great reading for any boy's boy or anyone who enjoys rural Americana.
* * *
If your kid liked the Little House books by Laura Ingalls Wilder...
Try
Little Heathens: Hard Times and High Spirits on an Iowa Farm During the Great Depression by Mildred Armstrong Kalish (2007)
. My personal favorite parts of the Little House series were the old-time how-tos, stuff like how they made straw hats and what it meant to them when Ma got a sewing machine and so forth. Mildred Kalish's fabulous memoir of rural life in the 1930s contains delights like these and many more--recipes for applesauce cake, home cures that called for spider webs and egg membranes, and a whole chapter on the delights of laundry day. Mildred, her sister and her mom moved in with her "19th century" grandparents after their father dropped out of the picture, and they never looked back. Why would they? At the farm they got to sleep with tame raccoons, hunt down bumblebee nests and eat fresh food right out of the ground with nothing for garnish but a splash of well water and a sprinkle of salt from the salt lick. This is truly one of my favorite books ever, and while there's something for everyone in this book, if you have an appreciation for the good, slow life, look no farther than the Urmy farm near Garrison, Iowa. Wonderful stuff, recommended for absolutely everything.
Fair warning: This was not written as a children's book, although I strongly believe it could easily be read by anyone at a fourth-grade reading level or above. That said, cautious parents may want to know that the author discusses some topics which may or may not be appropriate for their children's reading, notably: There are at least two gruesome animal deaths (which are true to farm life but may be difficult for sensitive kids to hear about); there is a very very oblique reference to a neighbor's self-induced abortion--I was on my third re-read before I put it together, and I'm an adult, so I assume that most young people wouldn't have the slightest idea what was being referenced, but still; and lastly, the author is frank about her doubts about religion and God at a couple of points in the book, which may or may not lead to discussions or doubts on the part of your kid. But seriously, blow all that off and read the book. It is heavenly, I swear!